In line with our vision of digitalizing and speeding up solarisation, we at Power n Sun have created a new tool that will revolutionize how solar EPCs, installers and resellers connect, communicate, initiate and manage their solar projects and the business process of their clients.
PnS-One is an innovative, AI-based solar application that is Android, IOS and Cloud-based.
It provides a seamless and reliable connection with our customers by accessing the App through their unique identity to create, transact, manage and store their data most securely.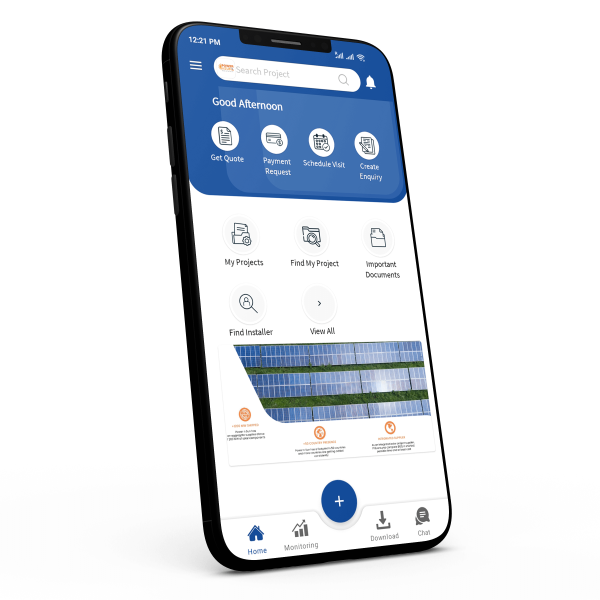 Pns One is user friendly, effective and synchronized platform to provide
CRM
Sales automation
Solar Site Survey
Basic Pv design with detailed site survey reports
SLD – Single-line diagram
Shadow analysis
3D visualization,
BoQ – Bills of Quantities
Project and Inventory management
Online market space
Post-sales O&M
It has both the features, on-site and back office desk for practical and real-time connection with employees in the field and office.
The PnS One is the one-stop solar solution for the residential, commercial and Industrial sectors enabling techno-commercial offers in less than 10 minutes, and one can manage the entire solar sales, procurement and installation process in a jiffy, improving the efficiency by more than 500%. End users can also use PnS One to plan, install, and monitor their solar rooftop projects, whether Online, Hybrid, or completely off-grid.
PnS one is available in two versions: Basic, free for all, and the Pro version, which is at a nominal amount. The amount paid by the clients will be deducted from the purchases they make from PnS online market space, eventually making it free of cost for the regular users.
Critical advantages of PnS market space will be – 100% product availability, hence short site lead time, resulting in optimised working capital deployment, best of the brands and most importantly, excellent prices with Local delivery.
PnS-One empowers solar installers, EPCs and resellers and facilitates their business growth. The platform offers a range of features tailored to their needs.